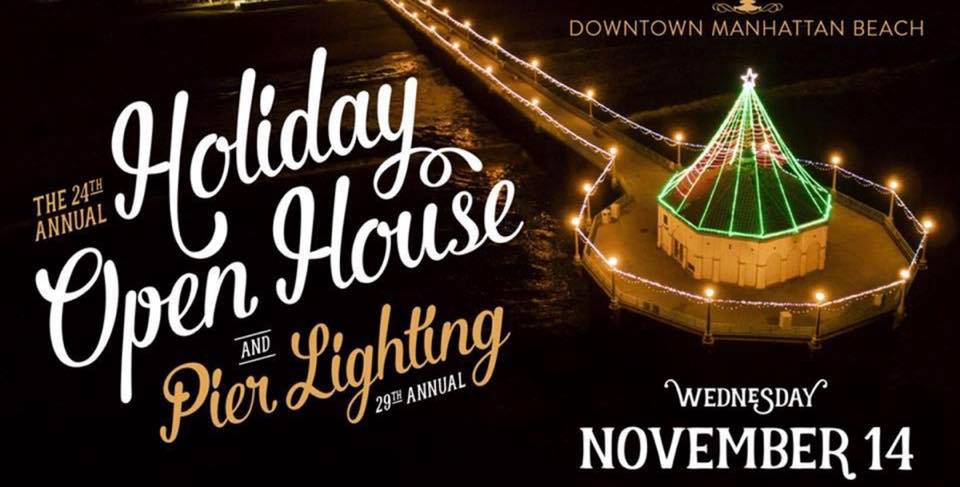 The 29th Annual Pier Lighting and 24th Annual Holiday Open House
Wednesday, November 14, 2018
6:00 PM to 9:00 PM 
Downtown Manhattan Beach and Manhattan Beach Pier
The annual Pier Lighting and Holiday Open House is the official start of the holiday season in Manhattan Beach. It is also downtown Manhattan Beach's local restaurants, retail stores and businesses way of saying thank you to their customers and community for their support and patronage throughout the year. Downtown merchants will be open until 9:00 PM and are sure to offer some distinctive gifts and intriguing offers this holiday season. The restaurants will be serving their original menus and some sampling to get your palette started for an evening of wonderful food. Be sure to check out the solar powered Festival of Lights and the 12 foot living tree in the Metlox Plaza. Please note: The Living Trees on the pier will be up for one week from November 13th to November 19th.
Bring your kids and remember your shopping list!
Enjoy an evening of holiday music, shopping and dining all at one great location, Downtown Manhattan Beach.
THINK LOCAL FIRST.
Schedule of Events (subject to change)
Download a copy of the schedule (coming soon).
Pier Lighting Schedule (brought to you by the Manhattan Beach Parks and Recreation Department)
| | |
| --- | --- |
| 6:00 PM | Manhattan Beach Middle School Choir |
| 6:30 PM | Mira Costa High School Choir |
| 7:00 PM | Mayor Steve Napolitano flips the switch that lights the Pier and the Living Trees |
Holiday Open House Schedule (Brought to you by the Downtown Business and Professionals Association)

Metlox Plaza Entertainment (backside – 13th Street and Morningside Drive)
6:30 PM to 8:30 PM
TBA
Metlox Plaza Entertainment
6:30 PM to 8:30 PM
TBA
Manhattan Avenue
6:00 PM to 9:00 PM
TBA
Highland Avenue
6:00 PM to 9:00 PM
TBA
Manhattan Beach Boulevard
6:30 PM to 8:30 PM
TBA
Please be note the street closures that will occur the day of the event.