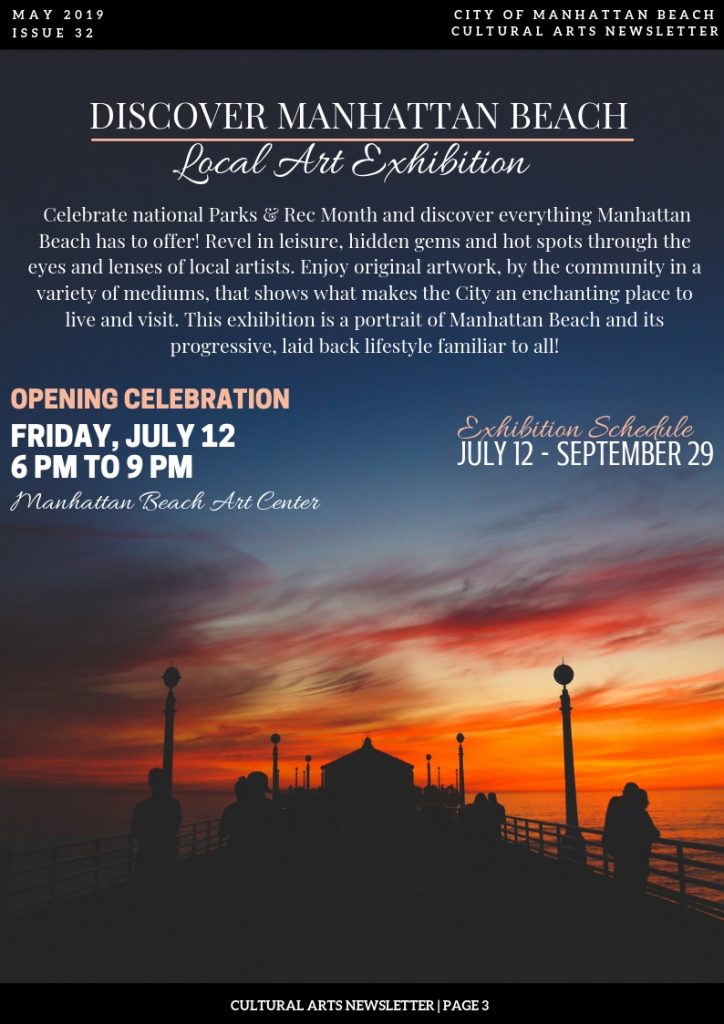 Discover Manhattan Beach
Local Art + Insta-Photo Contest Exhibition
Exhibition Dates: July 12 through September 29, 2019
Opening Celebration: Friday, July 12, 2019 from 6:00 PM to 9:00 PM
Gallery: Manhattan Beach Art Center, 1560 Manhattan Beach Boulevard, Manhattan Beach, CA
Celebrate national Parks and Rec Month and discover everything Manhattan Beach has to offer! Revel with leisure, hidden gems and hot spots through the eyes and lenses of local artists. Enjoy original artwork, by the community in a variety of mediums, that shows what makes the City a desirable place to live and visit. This exhibition is a portrait of Manhattan Beach and its progressive, laid back lifestyle familiar to all!
Opening Celebration
Gallery Information:
Manhattan Beach Art Center (MBAC)
1560 Manhattan Beach Boulevard
Manhattan Beach, CA 90266
Wednesday through Saturday 10:00 AM to 9:00 PM
Sunday 10:00 AM to 5:00 PM
Monday, Tuesday, and Holidays Closed
Thank you to our sponsors
---
RIDE THE SOCIAL WAVE!