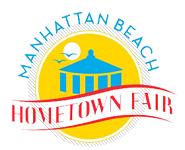 The annual Manhattan Beach Hometown Fair takes place Saturday, October 5 and Sunday, October 6 from 10 a.m. to 6 p.m.
A longstanding South Bay tradition, the Manhattan Beach Hometown Fair is a fun-filled, family occasion featuring live music, entertainment, arts and crafts, games and rides. The Hometown Fair merchants offer an extensive assortment of quality craftsmanship. Exhibitors are by invitation only so as to provide a unique selection of items.
With over 300 vendors, there's something for everyone: from ceramics and clothing, oil and water paintings to photographs and sculptures made from glass, wood and metal.
There will be a wide variety of edibles available for your dining pleasure and booths are staffed by non-profit organizations.
The Beer Garden, which is located on Dorsey Field at the north end of the fairgrounds, opens at 10 a.m. on Saturday and Sunday and serves beer tickets until 5 p.m. with last call at 5:30 and the doors closing at 6:00. The Beer Garden is staffed by local charities established for the benefit of Manhattan Beach youth. A drawing takes place in June, where four of the charities are selected to operate the Beer Garden. Each group selected will receive a portion of the net proceeds.
The Wine Garden, which is located at the basketball courts and can be reached via Live Oak Field, is open from noon to 6 p.m. on Saturday and Sunday with last call at 5:30. The Wine Garden serves premium wines in a casual and comfortable garden-like setting and features live entertainment from 1 to 5 p.m. each day.
The Main Stage is located on Dorsey Field near the Beer Garden and will feature the Annual Battle of the Bands on Saturday. Local amateur bands audition in early September and the finalists will battle for the title and a $500 cash prize. The Main Stage will feature entertainment throughout the weekend.
There are a number of attractions that return every year due to popular demand, such as the pony rides, the petting zoo and the giant 50 foot slide.
The Hometown fair is located in the general area of Live Oak, Dorsey Field and the Joslyn Center in Manhattan Beach.
Shuttle service is available from 8 a.m. through 6:30 p.m. both Saturday and Sunday from the Northrop/Grumman parking lot. The shuttle service parking is located at the corner of Aviation Boulevard and Marine Avenue in Redondo Beach and will run approximately every 15 minutes throughout each day.
For more information, visit the website at http://www.mbfair.org/.