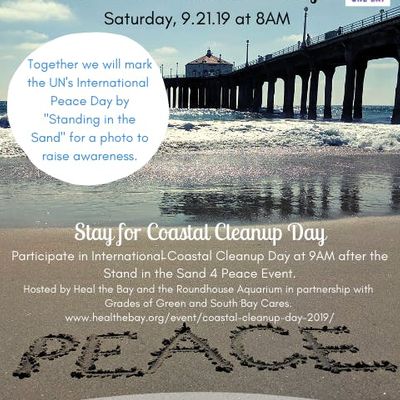 Several local groups are coordinating an effort to recognize the United Nations' International Peace Day on Saturday, Sept. 21 with a "Stand in the Sand" for peace.
The event will begin with a gathering at 8:00 a.m. on the Manhattan Beach Pier, after which the participants will spell out the word "P-E-A-C-E" in the sand. The event will be captured by an aerial photo.
Participation is free, but pre-registration at Eventbrite is encouraged.
The Peace Day event is being coordinated by Manhattan Beach resident Karen Wooldridge along with Pennekamp Elementary educator Donna Barney.
Organizations supporting the event include the Manhattan Beach Unified School District, Grades of Green, South Bay Cares, Heal the Bay, and the Roundhouse Marine Studies Lab and Aquarium.
After the cleanup, participants are urged to stay for the Coastal Clean-Up Day activities from 9:00 a.m. to noon.